EasyPost Fulfillment Onboarding Guide for Shopify Customers
First of all, thank you for choosing EasyPost as your fulfillment partner. We know that there are a lot of other 3PLs you could have chosen, but you chose us. For that, we appreciate your business and we'll work very hard to make this a fruitful partnership.
Now that you've decided to use EasyPost fulfillment, it's now time to start the process of integrating your storefront with our API, and sending your inventory to our fulfillment centers.
Step 1: API Integration
First, you'll need to get your API key and password from Shopify. The API key and password allows us to connect to Shopify's endpoint, which is the first step to any integration between APIs. Once you give us your API key and password, our engineers will personally set up the integration for you. This process can take anywhere from a few hours to a few days, depending on how much data (SKUs, product information, titles) we'll need to pull from your Shopify store.
Once the integration is set up, then we can port over all necessary product information from your systems. This process can take anywhere from a few hours to a few days, depending on how much data we'll need to pull from your system.
Step 2: Sending Us Your Inventory
Before you send over your inventory to our fulfillment centers, we ask that you fill out a Bill of Lading (BOL) and attach it to the inventory shipment(s).
We would like for you to fill out as much product information as possible - having this information will help us complete the integration faster. We absolutely require that you include matching barcodes, correct weights, and correct dimensions for every product you send to us.
We'd also like to emphasize the importance of sending us accurate inventory numbers and product information in your BOL. Inaccuracies will be caught and reported, but the integration can't complete itself until we have an accurate inventory count and product information. Double-checking your BOL and confirming accuracy will expedite the integration process and prevent costly delays.
As a final note, we highly recommend that you do not change product information once it's been sent to us. If you attempt to change product information without consulting us, the product in question will not be able to be received since we won't be able to match it with anything in our records. As a rule of thumb - do not touch product information once you submit it to EasyPost.
Step 3: Firing Up The Fulfillment Process
Once we get a complete inventory count, your Shopify integration will automatically turn on. You'll be able to send test orders out at this point, which we recommend doing to ensure that the fulfillment process is fully functional. We will also scan your current Shopify orders to see which ones we can fulfill based on the inventory we possess. The ones we can fulfill, we'll flag as "OPEN" so that everyone knows that EasyPost is taking those orders.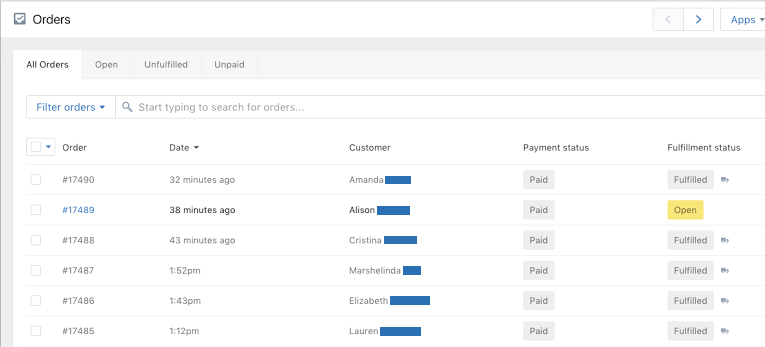 Once these orders are packaged and picked-up by the carrier, we'll flag these orders as "FULFILLED" and provide all necessary tracking codes to the Shopify dashboard. Here's an example of what a fulfilled order looks like in the Shopify dashboard: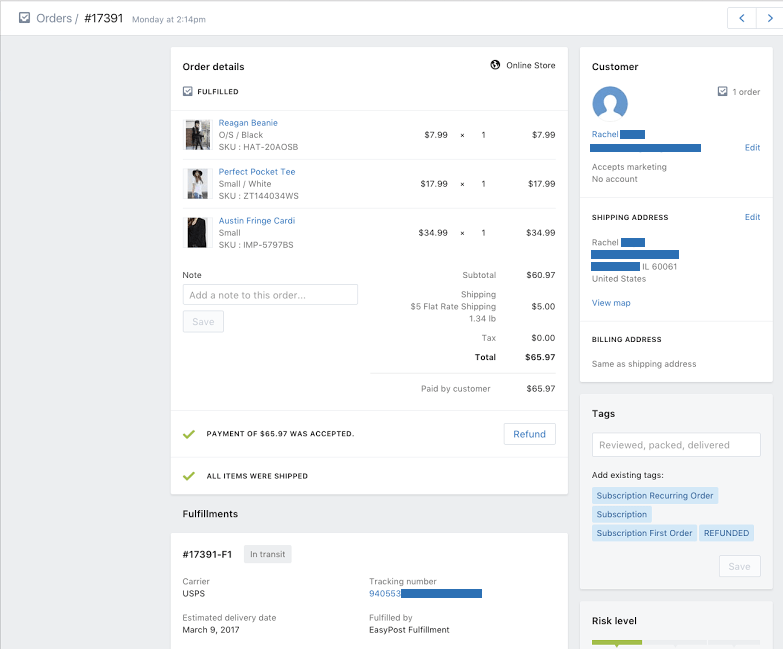 Step 4: Managing Your Inventory
You're free to use our fulfillment dashboard to manage your inventory and orders, or you can use your in-house dashboard as long as it stays connected to our fulfillment platform.
As your inventory levels get low, be sure to include a BOL with every incoming inventory shipment you send to us. Remember, do not change any product information or product barcodes after they've been set up in our system. If you do, we can't receive those modified products.