Today's ecommerce landscape
The future of retail is online. Ecommerce has grown in market share year after year and is projected to overtake brick-and-mortar by 2025. While this seems like good news for companies in the ecommerce space, it's only good news if you adapt to the times. More ecommerce means more demand and more competition. After a year of staying in and ordering online, consumers have a new set of expectations. Fast is no longer fast enough, and cheap is no longer cheap enough. When it comes to online retail, traditional thinking will tether your company to the past.
Today's ecommerce landscape is quite different than it was even two years ago. A world of people working and centering their lives at home during the global pandemic expedited the demand for ecommerce, and consumers and businesses alike adapted. In fact, in the US alone, "consumers spent $861.12 billion online in 2020, up an incredible 44.0% year over year," according to Digital Commerce 360 estimates.

"That's the highest annual U.S. ecommerce growth in at least two decades." While the world is returning to normal, the new consumer habits and expectations around the opportunities of ecommerce remain. Keeping up with these new expectations is now a business imperative for many companies.
Let's have a conversation. Your customers will thank you.
Our previous shipping integrations were at best clunky, noisy, and riddled with errors. EasyPost truly changed the game for us, and we and our customers are reaping the benefits.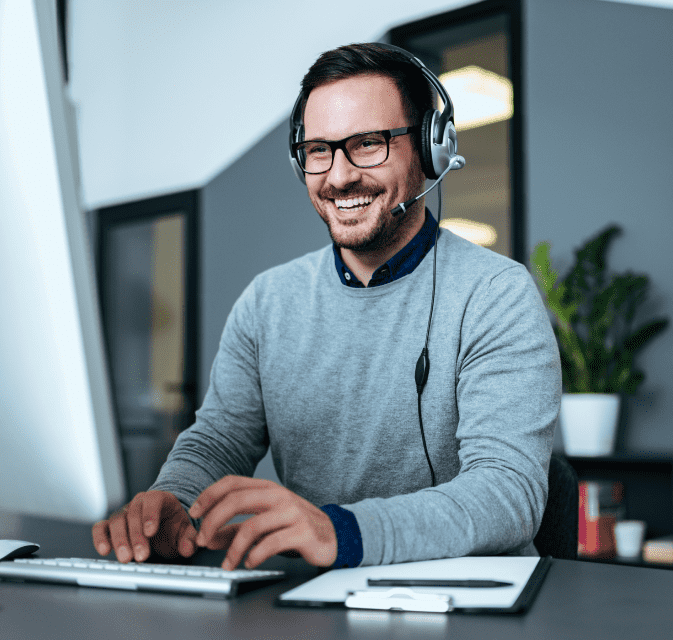 Ecommerce vs. brick-and-mortar
A consumer walks into a department store looking for a pair of shoes. After seeing several options, and trying on a pair, they pause, pull out their phone, and price shop. Even in the "brick-and-mortar" retail environment, ecommerce is making a play for the consumer dollar. In fact, the demand for ecommerce has grown so rapidly that it is projected to overtake the traditional "brick-and-mortar" market by 2025.
Ecommerce and brick-and-mortar market projections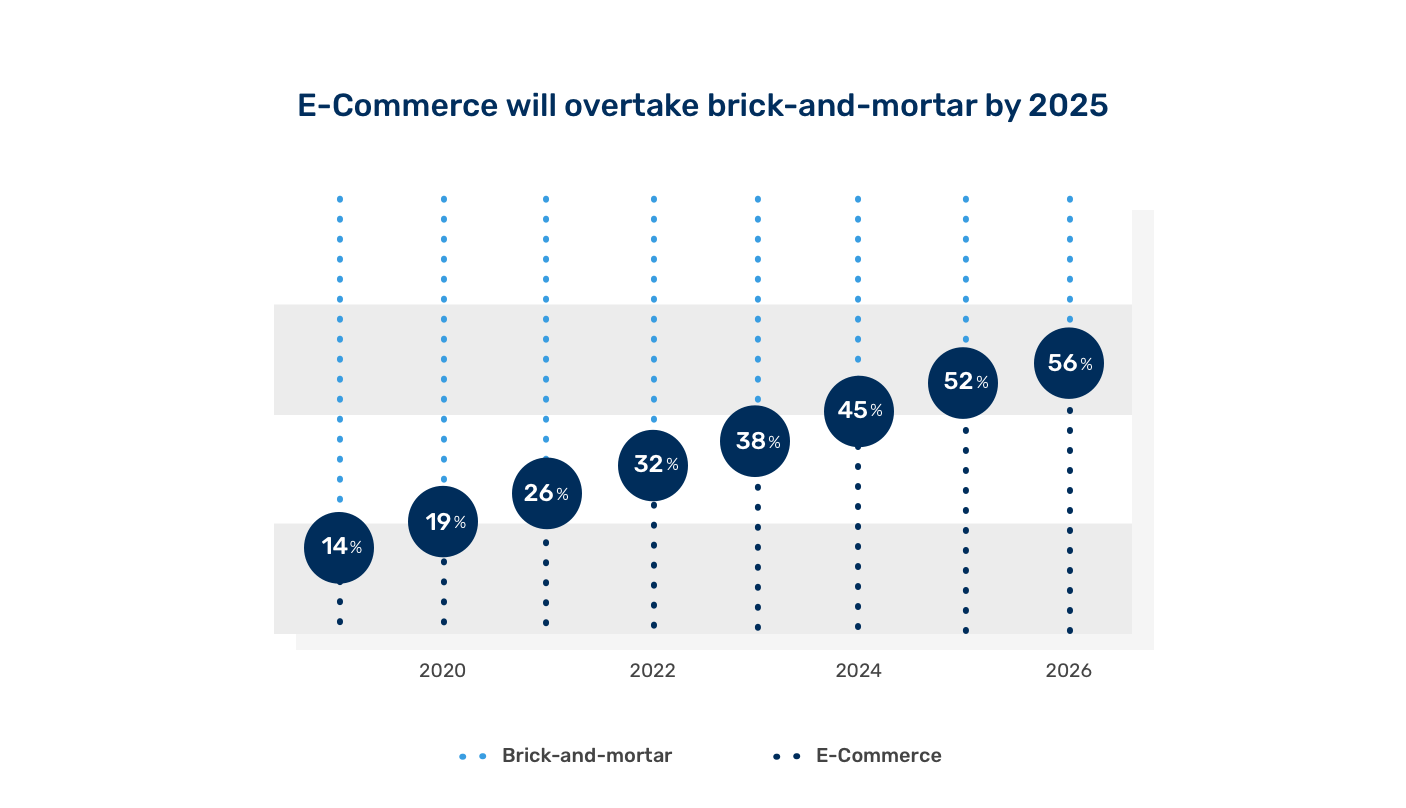 On both sides of the retail relationship, ecommerce offers added benefits. For customers, buying online allows comparison shopping to find the lowest price for a good or service. It also provides a chance for customers to seek out and find rare items. For sellers, ecommerce opens opportunities to reach a more diverse, even international, audience, as well as greatly decrease fixed expenses. A seller needs only an online environment, such as AmazonMarketplace, eBay, Etsy, Shopify, or Squarespace and their product.
With the exponential growth of ecommerce also comes an exponential increase in competition and enhanced customer expectations.
As businesses look to stand out and create a connection with shoppers, they must consider different ways to engage their customer base. Voice-activation, smart mirrors, and video purchasing represent a few of the new channels with which brands can now experiment to create a true omnichannel experience driving customers to multiple points of purchase.
However, even if you provide the best shopping experience and price, the ultimate purchasing power falls on the shipping process. You need only look at the number one reason customers abandon a shopping cart - unexpected shipping costs - for proof.
Shipping made easy for enterprises
Investing in a reliable, scalable, and modern ecommerce shipping solution allows you to pivot and adapt with the ever-changing landscape. Learn what to look for in our new white paper.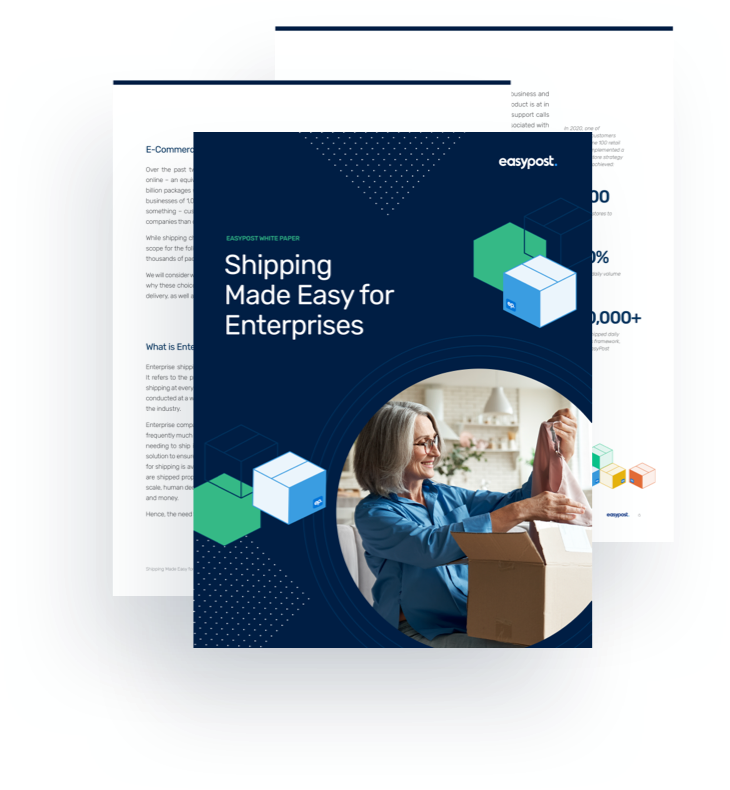 The shipping process
Key statistics
Over 40% of US consumers receive one or two Amazon parcels weekly, on average
Almost half (49%) of shoppers say that same-day delivery makes them more likely to shop online
96% of customers consider "fast delivery" to mean "same-day" delivery
Small business shipping grew 65% globally in 2020
56% of consumers tried a new retailer during the pandemic
The shipping process begins the moment your customer is presented with shipping options. The price and speed of shipping are both important. So much so, that free shipping persuades almost 80%of US consumers to shop online and 80%of shoppers want same-day delivery.
Steps involved in the shipping process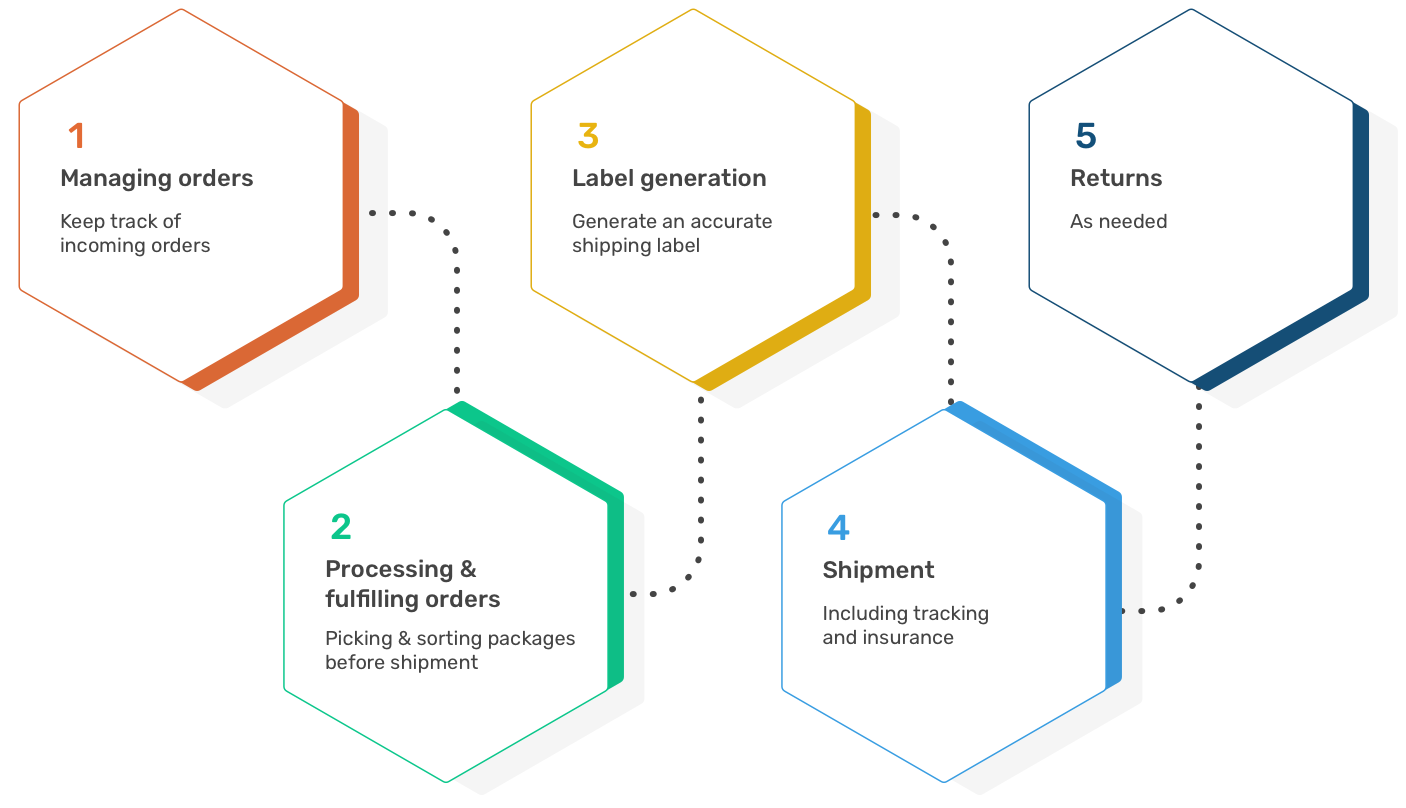 However, there are other ways solutions can put shippers ahead of the curve. During the pandemic, consumers tried many shopping and delivery options for the first time, according to a recent study. Thus, omnichannel fulfillment practices allow businesses to keep up with new and diverse customer demands through a range of solutions at both the source and destination of the shipment. Omnichannel fulfillment strategies include:
Shipping from warehouse
Shipping to store
Shipping from store
Shipping to partners (locker, carrier, or other pickup spots)
Shipping from 3PL
The benefits of multi-carrier shipping operations
After the consumer has made their selection of price, speed, and location of shipment and finalized the purchase, the next steps are processing and fulfillment. At the core, working with multiple carriers is key in ensuring your parcels can be delivered in the best possible time and at the lowest cost.
You need to be able to reach your customers where they are. Not only do carriers offer different rates across different locations, working with one carrier alone could increase the cost per shipment for both the shipper and customer, as well as impact, or even delay, operations if the carrier were to have issues.
Returns
A good returns process is also vital to customer satisfaction. At least 30% of all products ordered online are returned as compared to only 8% of products purchased in-store. Therefore, implementing a returns shipping solution that is both cost-efficient and customer-centric has become increasingly important for ecommerce businesses. In the last year especially, a few key trends are driving the state of returns in ecommerce:
Consumers are prioritizing convenience and predictability, driven by demand for alternative drop-off locations and convenient pick-up and returns, and printerless returns.
Bracketing, or multiple purchases, has surged but continues to be due primarily to size and fit issues, which can be mitigated with better information from the retailer.
More than half of consumers experimented with new retailers last year, largely due to supply chain disruptions. However, emotional reasons, such as supporting local or new direct-to-consumer brands, drove purchasing decisions.
What hasn't changed is customer expectations for free return shipping, online exchange capabilities, and proactive/regular communication about fulfillment timing.
Shipping insurance and tracking
Shippers opt for shipping insurance because it ensures that in the unlikely event that their package is lost or damaged, their goods will be replaced at little to no cost to them. If you don't insure your parcels, you're putting your pocketbook and reputation at risk.
There are two kinds of shipping insurance — freight and parcel insurance. Freight insurance covers a group of packages in a container or on a pallet, while parcel insurance covers each package. Figure out which kind of insurance is best for you before selecting.
Tracking your shipments is another important part of the process. Knowing where shipments are in the mailstream doesn't just benefit customers; tracking updates allow your business to remain agile. Your customer will have more peace of mind knowing where the package is at any given moment, and your business will be able to monitor and make any adjustments as needed.
The current and future state of ecommerce logistics
Technology is giving us access to more tools than ever before. Only those who use these tools effectively can win the shipping game. Shipping APIs and tracking APIs allow us to be quick, cost-effective, and nimble. The more data an API has access to, the better. Third-party logistics (3PL) companies can help lighten the burden of shipping by taking over the shipping process entirely and implementing these tools more easily.
It's no wonder why shipping has evolved so much over the years. But remember, as the market evolves, so will consumer expectations. Paying attention to trends and implementing the tools we've mentioned will help you stay ahead of the game.
Five ways to win the ecommerce shipping game with EasyPost
As the first RESTful API (or Application Programming Interface) for shipping, EasyPost has helped thousands of companies, ranging in size from multinational Fortune 100 companies to small neighborhood stores, ship billions of packages around the world.
EasyPost today offers a suite of flexible API solutions that help businesses solve complex logistics problems with a single integration. Through the EasyPost API, customers can:
Compare rates and purchase labels across UPS, USPS, FedEx, DHL, and dozens of other carriers
Improve on-time delivery metrics with data-backed optimization
Create and print labels in seconds
Receive real-time shipment updates through custom branded tracking pages and notifications
Confirm the accuracy of domestic and international addresses
Insure packages against any number of pitfalls
So, how can EasyPost help you win the ecommerce shipping game?
1. Multi-carrier access
Carrier diversification in ecommerce shipping is pivotal in getting your packages shipped quickly and efficiently. Multi-carrier access means ecommerce brands can spend less time forging relationships with carriers and spend more time focusing on other facets of running a successful business.
Tap into EasyPost's pre-existing relationships with over 100 carriers through a single integration. This makes it easy to compare rates across carriers to pick the ones that suit your business the best, cutting shipping costs along the way.
2. The most reliable PC Postage provider
High-volume shippers should be using PC Postage to support their shipping needs. This means we're an approved service from the U.S. Postal Service that allows third parties to print U.S. postage stamps from the user's printer.
At a glance, PC Postage provides benefits such as:
More carrier options
Additional delivery and fulfillment options
Expand international reach
RESTful API that's easier to integrate
Negotiate financial incentives and revenue
Unmatched scalability
We are one of three PC Postage providers in the industry, providing customers with 99.99 percent uptime. Even if the USPS system goes down, we can continue printing shipping labels for our customers.
3. Simple returns
As returns become more and more prevalent, EasyPost has made it easy for businesses to offer simple return options for customers through USPS Pay-on-Delivery Returns — a fully integrated returns shipping solution that makes handling returns easier and more affordable, all while providing an ideal returns shipping experience for your customers. With USPS Pay-on-Delivery, you don't pay for the labels until the shipment is delivered back to your business. With no upfront cost, you don't have to worry about paying for any unused return labels.
Plus, in those unfortunate situations when a package is damaged or lost in transit - a situation which totals more than 1 million packages daily - businesses can protect their outbound product, customer relationships, and profit margins, with EasyPost Shipping Insurance. We protect packages from the unknown for just 0.5% of the package value, with a $0.50 minimum, offer claim filing in 10 minutes or less at easypost.com, and provide claim reimbursements within 10 business days of claim completion.
4. Ever-evolving technology
Utilizing our suite of APIs doesn't mean you'll only get access to our current technology, but you'll be investing in our dedication to evolving excellence. Our developers are constantly looking for new ways to deliver intelligent shipping solutions to our customers.
We've recently rolled out SmartRate that uses data to provide customers with shipment-level optimizations to save time and money. This is only one example of cutting-edge technology that we're developing to make your shipping experience that much better.
5. Personalized customer experiences
EasyPost users can easily create branded tracking pages through the EasyPost dashboard, by customizing pages with logos, colors, and even special promotions.
In 2020, EasyPost partnered with ARKA, a brand and product packaging company, to make the branded customer experience easy to achieve.
As a leader in shipping and logistics, EasyPost boasts:
The second-largest carrier network of our competitors - dozens of carriers
The largest variety of integrations - over 140 integrations
The ability to work with a broad range of customers from SMBs to Fortune 100 companies
The future of ecommerce shipping
The industry's disruptions have been steady over the past decade, but perhaps the most significant disruptions occurred during the pandemic. Supply chain issues have illustrated the importance of last-mile delivery solutions and the need for a true logistics shipping partner.
We're keeping an eye on the following trends as they'll only continue to take a stronghold on the shipping industry.
Same-day delivery
Your customers are likely willing to pay a premium for expedited delivery. Before assuming you need to offer this, make sure you have a clear understanding of what your customers value. While it makes sense for companies like Amazon and Target to offer same-day delivery, it doesn't make it the right choice for every retailer.
Blockchain
Blockchain refers to the underlying technology used in applications like Bitcoin. This is potentially a huge way to reduce the cost of ecommerce delivery, as it allows for a streamlined approach to managing logistics management solutions. Documentation fees, procedural delays, and mismarked packages that once resulted in fines will subside with the introduction of blockchain technology.
Not only is blockchain technology beneficial to costs, but it is also an extremely secure method for shipping-related transactions, bringing additional peace of mind to your customers.
Drones and robots
Delivery drones continue to be tested, but there are additional hurdles regarding legal and regulatory requirements. The demand for fast deliveries is only increasing, giving companies the continued push they need to overcome these roadblocks faster.
The need for multiple carriers
Consumers want delivery options. This means retailers need the bandwidth to offer delivery options to keep up with demand. Harnessing data from third-party carriers allows retailers to offer a range of options for customers to choose delivery days, times, and carriers, all at the best prices.
The more carrier relationships you have at your fingertips, the more widespread your delivery options are, ultimately resulting in increased revenue.
Ready to talk with a shipping expert?