Introduction
While there are hundreds of shipping carriers available to businesses today, the fact remains that the U.S. Postal Service is an essential provider for almost all businesses operating domestically in the U.S. today.
As the largest residential carrier in the U.S., the USPS differs from typical B2B carriers in offering unique payment models with compliance guidelines compared to its competitors. These complexities can pose challenges for any business. For those sending thousands of packages a day, any mistake could result in heavy costs that you pass along to your customers - your ability to optimize at every step in the shipping process can result in significantly reducing your shipping costs.
Using PC postage over ePostage not only benefits your business but can facilitate a positive and longstanding relationship with your customers. As EasyPost is one of three certified PC Postage providers in the world, it's important to understand its advantages over other shipping options such as eVS and ePostage.
Methods of generating USPS shipping labels online
Source: OIG analysis

| Category | What it does | Intended audience | Examples of providers |
| --- | --- | --- | --- |
| PC Postage | Enables mailers and shippers to print and pay for USPS postage online. | All shippers and some mailers | EasyPost, Endicia, Pitney Bowes, Stamps.com |
| eVS | Electronic manifesting system allows shippers to pay online for large drop shipments | High-volume shippers | USPS, PostageMates, Neopost |
| ePostage | Enable shippers to buy postage through their account with third-party platform, such as a marketplace. | Small merchants | USPS, Etsy, Shippo |
USPS shipping options
There are currently three primary ways shippers interact with USPS technology to generate labels and pay for shipping: PC Postage, eVS, and ePostage.
PC Postage
PC Postage is the future of USPS shipping and EasyPost is proud to be the newest PC Postage provider - the first in over 2 decades. As one of the three USPS-certified PC Postage providers, EasyPost acts as a treasury and agent to print labels on behalf of the USPS for their customers.
EasyPost handles the ongoing integration with USPS while revealing the impressive features of our modern, carrier-agnostic API. Think of EasyPost as the middle man between the shipper and the USPS, taking out the hassle for the shipper.
PC Postage covers all relevant USPS functionality, support, and scalability that is unmatched by other options such as ePostage.
Benefits of PC Postage
Perhaps the most noteworthy benefit of PC Postage is the fact that uptime is controlled by the PC Postage provider. This means that even when USPS' system crashes or is unavailable to shippers, PC Postage providers like EasyPost can continue printing labels and sending packages.
PC Postage offers a host of benefits, but the benefits are maximized when using EasyPost for your shipping needs. With 99.99 percent uptime, we can ensure your packages are sent on time regardless of USPS' status.
PC Postage is unique in the sense that it's designed for shipping a diverse range of packages in the marketplace. This means that boxes of all shapes, weights, and sizes can be dropped off at ANY post office.
This alone is a huge benefit to shippers, as packages not shipped with PC Postage must be dropped off at specific distribution centers, creating additional hurdles for businesses.
PC Postage through EasyPost offers four key benefits
description
Improved stability
and performance
credit_card
Diverse payment
methods
Using other shipping options implies more risk for the shipper. For example, if labels are inaccurate, the shipper may be responsible for paying hefty fees for each package.
Because EasyPost already has an established relationship with the United States Post Office, users of PC Postage can start shipping in minutes. This means no long setups, drawn-out processes, or barriers to entry for the shipper. We will ensure each package is individually assessed and accounted for so any discrepancies are limited to one package.
Another example is when shipping rates fluctuate due to a shift in national or global shipping volume. With ePostage, companies must manually keep up with the changes in carrier shipping rates, which requires in-house IT staff. With PC Postage, EasyPost manages the change and keeps you informed along the way, leaving you to focus on running your business.
We're proud to be one of only three vendors authorized by USPS as a PC Postage provider. One of the many requirements to receive this exclusive certification is robust security. When sending packages with ePostage, there are limited systems in place to monitor suspicious activity. This leaves your packages, and company, vulnerable.
On the other hand, PC Postage was created in the 1990s with security in mind, and the standards have only evolved since. With built-in fraud protection and credit card review, you can ensure no one takes advantage of you or your company.
eVS & ePostage
While both eVS and ePostage are still around today, they are not considered to be the gold standard for shipping. With so many package restrictions, signature and drop-off requirements, and additional nuances for the shipper, eVS and ePostage present a different set of requirements for the commercial shipper.
The USPS Electronic Verification System, eVS for short, has historically been a popular choice for large volume shippers since it offered the fastest way to inject parcels into the mail stream— its operational speed justified its complex integration.
Today, the USPS is no longer documenting or promoting the eVS offering because of the introduction of PC Postage technology. With PC Postage, shippers can obtain comparable functionality to eVS through an integration that takes only weeks to complete, as opposed to a year.
ePostage incentivizes marketplaces to aggregate volume, allowing their customers to access marketplace postal rates and generate labels. This enables the Postal Service to have a direct billing and technical relationship with the marketplace.
One downside of ePostage? The marketplace bears the responsibility of managing the technology, onboarding, and support of ePostage customers. Additionally, while ePostage may be an attractive channel for a small shipper, the service becomes obsolete once a shipper grows in volume.
Rates available with the postal service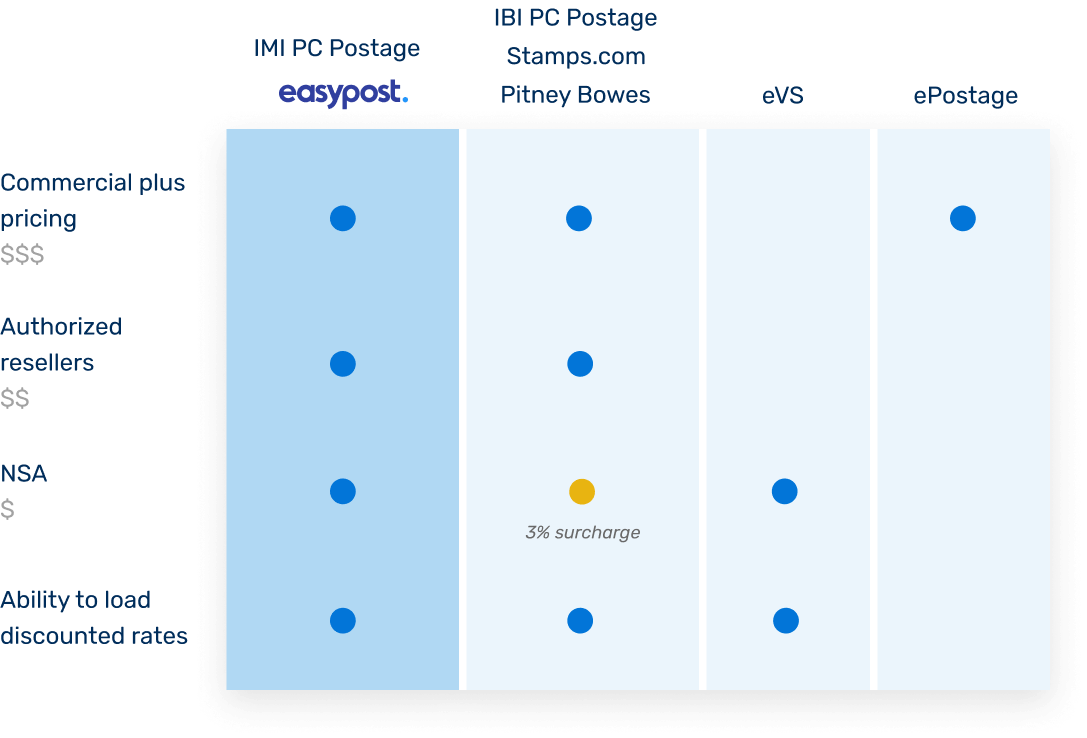 Is PC Postage right for your business?
How to know if PC Postage through EasyPost is right for your business? If you answer yes to any of the following criteria, your business can benefit from utilizing EasyPost as a PC Postage provider:
You ship high mail volumes
You ship multiple packages frequently
You ship letters and parcels
You have custom or NSA shipping rates
Your shipping volume is scaling quickly and requires technical support and flexibility
Your business requires enterprise-level uptime
Start shipping through EasyPost today
Whether an SMB or enterprise, PC Postage through EasyPost can take your company's operations to the next level by providing low-cost, high-level security and accuracy to your shipping operations. As a result, your business will continue to gain the invaluable trust of your consumers.
Make an account with EasyPost today and start enjoying the fruitful benefits of PC Postage.
Ready to talk with a shipping expert?