Overview
The United States Postal Service is a popular choice for many shippers. With over 31,000 retail locations, the Postal Service has the largest retail network–larger than McDonald's and Starbucks combined–in the United States. With its expansive network, the USPS is not only one of the largest shipping carriers but also one of the most competitively priced.
Other benefits of shipping with the USPS include: free pickup services, free Priority and Express Mail packaging supplies, insurance options that are free of charge, a pay-on-delivery returns option, label QR codes, domestic and international shipping, and a range of service levels to suit your needs.
As a PC Postage Provider for the USPS, EasyPost enables you to print USPS labels from your computer in addition to providing access to its other USPS-supported services–rating, tracking, address verification, and insurance.
The USPS offers shipping rates and service levels that can be the most cost-effective and reliable solution for you. It is one of our default carriers, so you can sign up and start shipping with USPS on EasyPost today!
Pricing
USPS provides two pricing tiers: Retail Pricing and Commercial Pricing. Retail Pricing is the set of rates available to the public and is what you'll pay when you go to your local post office. Commercial Pricing is a set of special rates USPS offers high-volume shippers, providing significant savings compared to retail rates.
To access commercial prices directly through the USPS, shippers go through a long contract process and need to meet certain volume thresholds. With EasyPost, however, shippers can immediately access USPS's Commercial Pricing when they sign up–no contracts, no fees, and no volume minimums!
USPS's pricing is generally based on the weight of the package and the zone, or distance, of the delivery. The lighter the package and/or the shorter the distance the package needs to travel, the cheaper it is to ship. However, the USPS also provides a couple of other pricing options that might be suitable to your needs, including Cubic Pricing and Flat Rate Pricing.
Cubic Pricing is based on the cubic feet of a parcel. Cubic feet can be calculated using the following equation: Length x Width x Height / 1728. Cubic Pricing allows EasyPost customers to spend less on small, high-weight packages.
USPS's Flat Rate Pricing options allow ecommerce businesses to ship products of any weight across any distance for one price, as long as it fits into one of USPS's designated flat rate boxes. Many ecommerce businesses may benefit from Flat Rate pricing if they are shipping heavier packages.
See rate tables for all of USPS's pricing options.
Predefined parcels are an easy way to classify and therefore price a package. See predefined parcels for the USPS and other EasyPost-supported carriers here.
EasyPost's shipping API supports all of USPS's pricing options and offers Commercial Pricing for all of our customers without any volume requirements. You can sign up with EasyPost and access the cheapest USPS rates today as well as talk to any of our shipping experts to help you understand the best shipping options for you.
Service levels
When you're shipping large volumes of packages each month, it's important to understand all the different service levels available to you. Even a small $1 difference in price per shipment can amount to large costs to your business; on the other hand, the customer satisfaction achieved through fast delivery times might be worth it. Optimizing between cost and delivery times is the great balancing act of ecommerce shippers.
The USPS has 11 service levels that are supported by EasyPost. Each service level is distinctive by the speed of delivery it offers and the type of shipments it supports. Each service level is detailed in the chart below. (Note: Girth = 2 x (Width + Height)).
| Service | Transit Time | Max Dimensions | Max Weight |
| --- | --- | --- | --- |
| First Class (Letters and Flats) | 1-3 days | 22" x 18" x 15" (55 cm x 45 cm x 38 cm) | 13 oz (368 g) |
| First Class Package Service | 1-3 days | 22" x 18" x 15" (55 cm x 45 cm x 38 cm) | 15.99 oz (453 g) |
| Priority | 2-3 days | Combined Length and Girth < 108" (274 cm) | 70 lbs (31 kg) |
| Express | 1-2 days | Combined Length and Girth < 108" (274 cm) | 70 lbs (31 kg) |
| Parcel Select | 2-8 business days | Combined Length and Girth < 130" (330 cm) | 70 lbs (31 kg) |
| Library Mail | 2-8 business days | Combined Length and Girth < 108" (274 cm) | 70 lbs (31 kg) |
| Media Mail | 2-8 business days | Combined Length and Girth < 108" (274 cm) | 70 lbs (31 kg) |
| First Class Package International | 7-21 days | Combined Length and Girth < 108" (274 cm) | 64 oz (1814 g) |
| Priority Mail International | 6-10 business days | Combined Length and Girth < 108" (274 cm) | 70 lbs (31 kg) |
| Express Mail International | 3-5 business days | Combined Length and Girth < 108" (274 cm) | 70 lbs (31 kg) |
See service levels for the USPS and all EasyPost-supported carriers here.
Labels
EasyPost supports both domestic and international USPS labels in the following format: PNG, PDF, ZPL, EPL2, and ASCII. Request or convert your file type of your labels using our Label API. Below are two test PNG Labels, one is an international label (left) and the other is a domestic label (right):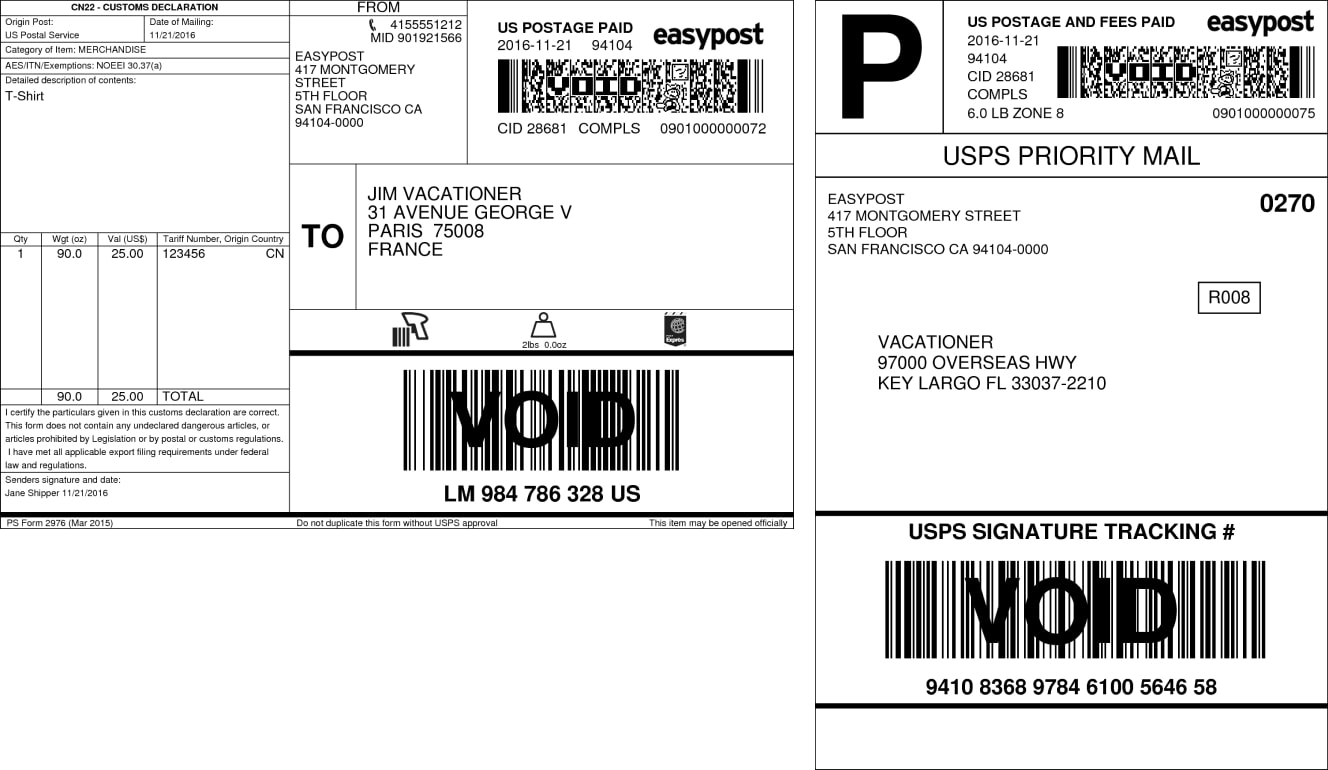 Other USPS services
The USPS provides a variety of services that are unique to the Postal Office and benefit many ecommerce businesses.
Free pickups
Whereas most parcel carriers will charge a pickup fee, the USPS will pick up your package for free if you have one of the following package types out for shipment: Express Mail, Priority Mail, Returned Merchandise, International, and First Class Package Service. With EasyPost's shipping software, you can easily schedule USPS pickups through the API.
Pay-on-delivery returns
Through EasyPost, you can utilize USPS's pay-on-delivery returns service where you only pay for the return labels that are actually used, no matter how many you print for your customers. Also, USPS labels come with QR Codes! This means that your customers no longer have to hassle with printing out their shipping label before taking their package to the post office for a return.
Free shipping supplies
The USPS offers shippers free shipping supplies for Priority and Express Mail classes of mail. You can order them online from the USPS Store. Many shippers benefit from this service, which is unique to USPS, as they try to drive down their shipping costs.
Free insurance
Priority Mail Express® may include up to $100 of insurance and Priority Mail® may include up to $50 in the price of service. EasyPost makes it easy to add insurance to your USPS packages to protect against damage, loss, or theft directly through the API.
Ready to talk with a shipping expert?
Cut your USPS shipping costs by 50% with EasyPost's out-of-the-box discounts. Or, connect your own USPS account (or any account with our other supported carriers) to retrieve your custom rates to use with EasyPost services. Your implementation can be completed in minutes, and our Sales and Solutions Engineering teams are happy to walk you through testing and get you ramped up while answering any questions along the way.