Step 3: Starting the App
It's time to get the app started and see if we can get an SMS notification!
Open your shell, and run $ python app.py. The app is now running on port 12345, but there's one problem - since it's running locally, EasyPost has no way to access it! In a production application, our app would be running on a remote server, but there's no need to set one up for this example. Instead, we use a tool called ngrok that can temporarily tunnel our app to the outside world.
Visit the ngrok website to install ngrok on your computer, then open a new shell. Simply run
$ ngrok http 12345, and ngrok will take care of all of the heavy lifting. You should see a URL that looks something like "https://something.ngrok.io" in ngrok's output - copy it.
All that's left is to tell EasyPost where to send our webhooks. You can do this from the webhooks page, or by running the following cURL command (replace xxxxxxxx.ngrok.io with your ngrok URL and insert your actual EasyPost test API key):
$ curl -X POST easypost.com/api/v2/webhooks -d 'webhook[url]=http://xxxxxxxx.ngrok.io/easypost-webhook&webhook[mode]=test' -u 'your-test-api-key:'
It's time to see the results of our hard work! EasyPost will send us a webhook after we create a test Tracker. We use a test tracking code, "EZ2000000002" (you can find the full list of test tracking codes here):
$ curl -X POST https://easypost.com/v2/trackers -d 'tracker[tracking_code]=EZ2000000002' -u 'your-test-api-key:'
In a few minutes, you should get a customized SMS message when an "update" occurs on the test Tracker: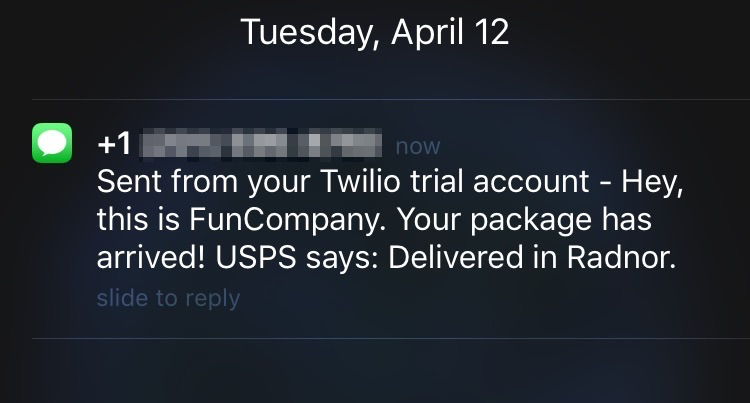 Awesome! If you're interested, try playing with message customization using attributes listed in the Tracking API.
While this app isn't ready for production quite yet, it's a great example of what you can do with the EasyPost Tracking API. Here are some ideas for how you could extend this application:
You could:
Notify customers if the shipment is delayed or has deliverability issues
Alert customers with the name of the person that signed for their package
Let a customer know when their package enters their home state, or is out for delivery
Send email notifications in addition to SMS messages
You can download the code (with tests) for this tutorial on GitHub.